."Wirawati yang cantik berjuang demi keadilan, penuh dengan perasaan kasih sayang, Sailormoon!! Dengan kuasa bulan, akan menghukummu!"
Hheheheh! Assalamualaikum.Welcome to Farah's Malaysian Sailormoon Paradise.( 1/10/2000. New Anime message board! Down your thoughts) This site is especially dedicated to anime & Sailormoon fans in Malaysia.
Sailormoon products (cards, calenders, stickers, jigsaw puzzles ) are sold quite well in Selangor & KL. Sailormoon is a hit anime series among young hearts.
Or back to
Farah's Kingdom Of Arts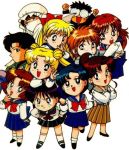 Great news, dear Malaysians! Now everyone have the opportunity to watch the Sailormoon Super series every Sunday, 9.00 am , TV2 ..